Celebration of 125th Dr. B.R. Ambedkar Birth anniversary
1. A rally was organized in the Sec-15 and village Dhanas to spread out the thinking's and thoughts of Dr. Ambedkar.
2. Mr Sagar Singh addressed the students in morning assembly and described the contributions of Dr. Amdedkar to the nation as a writer of the constitution of India and a Masiha of Downtrodden people and women.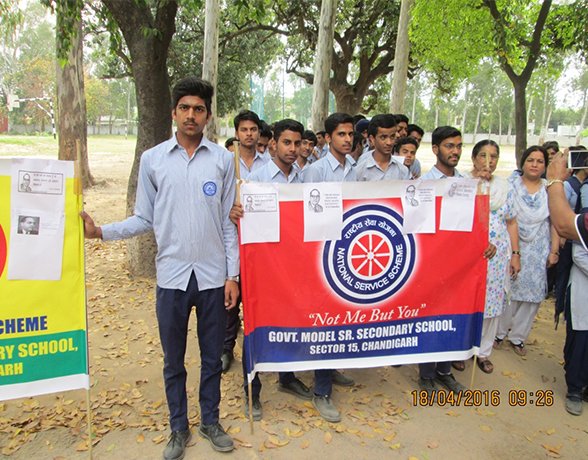 Sadbhawna Diwas Celebration
1. 100 NSS Volunteers took part in Cycle Rally organized by Red Cross Society from Sukhna lake to Sec-11, Chandigarh.
2. Painting/Slogan writing/Essay writing competitions were organized by the Red Cross Society in the School.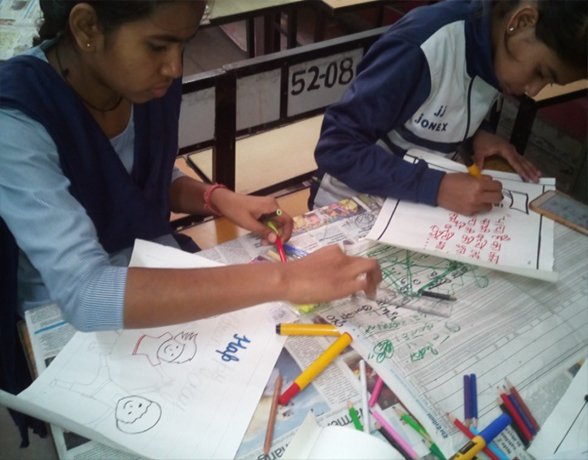 International Yoga Day Celebration
100 NSS Volunteers took part in International Yoga Day celebration at Capital complex, Chandigarh.
Drug-De-Addiction Day
NSS volunteers took part in Drug De-addiction awareness rally organized by Education Department Chandigarh in collaboration with Anuvrat Samiti from Kisan Bhawan Sec-35 to Anuvart Bhawan, Sec-24, Chandigarh. During the rally students carried Banners giving awareness against drugs and in favour of good health.NSS program officers (Mrs. Kamaljit Kaur and Mr. Sagar Singh), Mrs, Poonam Verma (lecturer in Geography) accompanied with the students.

Celebration of National Education day on 11th November, 2016.
The following activities were carried out to celebrate National Education Day.
1. Essay Writing ( 50 students were participated from 9th to 12th classes)
2. Talk on the topic "Importance of Education" in the morning assembly.
3. Slogan Writing (30 students were participated from 6th to 10th classes).
4. Rally on importance of Education, Sab Padhe, sab Badhe (student of class 11th and 12th participated).
Programme Organizers:-
1. Mrs. Sunita Arora, Lecturer in Hindi
2. Mr. Sagar Singh, Lecturer in Punjabi
3. Mrs. Bimla Diwan , TGT Hindi
4. Mrs. Rupinder Kaur, TGT Hindi
5. Ms. Meenu Gupta, Drawing Teacher
6. Mr. Sukhpreet Singh, TGT Punjabi.